It's lovely when a friend (or an Instagram friend) has a small business, you love that they are working on their dream and have started something that they love….. but…. how do you support them?
I mean, there is only so many XYZ products that you can buy from them ! (though, please, do go ahead and buy them!)
There are a few memes around about how small business owners jump for joy for each sale they get (and it is true! I rush to print out the order and I love my order packing days!) and this infographic below shows you lots of other great ideas on how you can support them
And there is another way too! Using their affiliate / sponsored links : )
A lot of the larger businesses have affiliate programs where a smaller business (like me!) can sign up and when we promote one of their products or services (because we love them ourselves!) and then you buy using the link we have promoted, we get a teeny tiny percentage of the proceeds.
You don't pay anything different than if you had gone straight to that larger businesses website – we just get a small amount to thank us for bringing the sale to them!
Below are some of the companies and products that I love and support and who support me so that I can continue to write this blog, make beautiful things and keep providing you with patterns and great things to learn!
---
And of course there are some amazing Black Friday sales on as well this weekend! Like this one from the Fat Quarter Shop!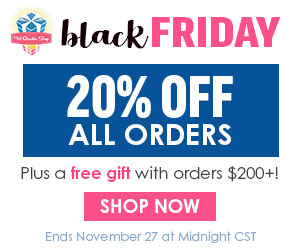 ---
Make Modern Magazine
This wonderful digital magazine supports pattern designers and makers and I love that they are Aussie girls too! Each issue has so many amazing patterns in it as well as articles and interviews with designers.
---
I bought the 2019 planner part way through the year and fell in love… it has helped my planning and business (as well as keeping me on track with all my sewing!) so for 2020 I bought mine early! Discover the joy of having a planner designed for quilters too!
---
And sometimes when you just can't find that product you want here in my online shop or at any other online shop in Australia, you just need to head to biggest fabric shop there is…. the Fat Quarter Shop!
Please note that this affiliate code only lasts 7 days on the device you click on it from…. so feel free to come back here any time you want to buy from the FQS!
And just a note… the FQS are going to be having some AWESOME Black Friday and Cyber Monday sales!
If at any time you want to check out who I am supporting and who is supporting me… head on over to My Affiliate Links page and click on a link before you buy : ) Maybe bookmark that page so it is easy to find when you have an itch for some shopping!